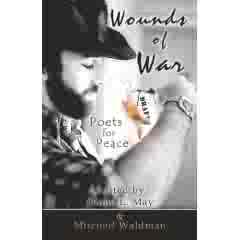 Wounds of War: Poets for Peace

                   Diana L. May & Mitchell Waldman, Editors

Wounds of War: Poets for Peace brings together, in poems, stories and essays, the voices of those personally affected by war. These are voices of parents, of children, of friends, of soldiers and others who have a large stake in the wars, present and past, that our country has participated in. We hear the patriotic voices, the voices of dissent and rage, the voices of sorrow, pain, fear and tears, the voices of pride and love. All these voices are gathered together here to hopefully make the experience of war something more than another headline in the morning's paper. An experience to be felt by us through their words, their hearts, and souls.

                              Wounds of War: Poets for Peace

                              PublishAmerica (Jan 2006)

                                       Paperback

                              ISBN # 978-1-4512-5333-7

                              140 pages, 5.5 x 8.5

                              NOW ONLY  $ 9.95

The Service of Deflection

      Eric Evans

Say you're walking along

with a friend, talking,

and say a bullet enters

your left side at the

shoulder blade and say

the thing doesn't hit your

spine but for the particle

of some nerve or another

that does you the service

of deflection and then

say the bullet exits your

right side at the shoulder

blade, almost like it never

happened except for the

matching holes. Say you make

it to someone who might be

the enemy and say he helps

you all the same and say in

six months' time, when

the bandages are off,

you have no choice but to

pick up the notebook again

and install some eyes in

the back of your head.



Flag
    Henry Burt Stevens

Not moving, not dancing

lying very still

now a coverlet

a decoration

for remains forever static.

The starred blue square

marks the head

although we do not know

or ask if there is a head inside.

The red white stripes

point to the feet

as in patrol, platoon

squad and squadron.

Do not look or note

or photograph these flags

covering metal boxes

it's unpatriotic.

Do not recite the names

of what the remains were called

as it aids the enemy

is an intrusion on family grief.

Do explain to the children

especially the very young ones

why flags are gleefully everywhere

when starting the war.

But now we do not look at

or think about

flags on

metal boxes.

    Baby Jew

   Diana L. May

Words bite into me

hard on my flesh

leaving a bloody imprint

like still-life photos

the click of a button

and babies suck

on strange mothers

with nipples of guilt

trying to survive

twice the child

before and after

and men walk by

skin sagging

like ragged clothes

faded yellow stars of David

and the babies

pile up like dirty dolls

with lips still puckered

tongues curled

and clenched fists.

      Nineteen

Mitchell Waldman

He was nineteen

dying in a field

in a foreign land.

That was all he knew.

He wasn't feeling brave

but only afraid

as he felt the life

slipping out of him.

He didn't know who was right

or who was wrong

as they argued about it

in the grocery stores

in the newspapers

at the filling stations

and he lay dying

in this field of green.

He didn't feel as if it were an honor to die

he didn't feel dignified

or proud,

just scared,

a boy longing for home.

He didn't know anything now

just the pain;

he wasn't thinking about bleeding-heart liberals

or staunch conservatives

only about all the things he wouldn't see

he wouldn't do in his life

now that it would all be over so soon

and the fear of the unknown

of what was to come.

He didn't know much about politics, about "stand firm"

or "the right plan"

he didn't know

which candidate was better for the country

(now he would never get the chance to vote).

He only knew

he was nineteen

and he was going to die

before he had a chance

to live

and he wasn't really sure

why.

Some Poems from WOUNDS OF WAR:

All poems Copyright (C) 2009 by the authors.

WOUNDS OF WAR: POETS FOR PEACE includes works from the following writers and poets:

Tholona Ashok Chakravarthy

Jim Dunlap

Eric Evans

Dave Faust

Anita Fernandez

KC Francis

Cheryl Gruener

Sue Hess

William Heyen

Kameron F. Ince

Pat Janus

Sandy Knauer

Molly Malloy Wiest Logothetis

Paul Mallory

Diana L. May

Michelle Close Mills

Sal Parlato, Jr.

Janeen Robichaud

Samantha Robichaud

Frank Robinette

Jane Moress Schuster

Annette Merkur Schwartz

Alexander Shaumyan

Larry D. Stevanus

Henry Burt Stevens

Sally Steinmiller

Frank Tymon

Anne Usynski

Don Vaccaro

Mitchell Waldman

Brandon Wilson